Understanding Decrease in Coal Reserve Trend 1992 – 2012
Reserves for non-renewable energy source such as Oil, Natural Gas or Coal represents a much smaller portion of the technically recoverable resources. What they represent, that fraction of the total, not only is technically recoverable but is commercially recoverable. It generally makes sense on a prevailing or anticipated economic conditions in reference to the marketplace for selling the resource, what is supposed to be paid to get the quantity of Coal from the ground in terms of labour and capital costs etc.
So under prevailing economic assumptions, there is reasonable likelihood of being able to recover a certain amount, a certain fraction of the resource in place. And that is what we call reserves.
As can be observed from Figure 1.1, Proven Reserve for Coal has declined from around 984,500 million tonne in 2002 to almost 861,000 million tonne in 2012. This is a decline of close to 12.5 %
Region wise it can be seen that the decline in reserve is observed in Middle East & Africa, South & Central America, Europe & Eurasia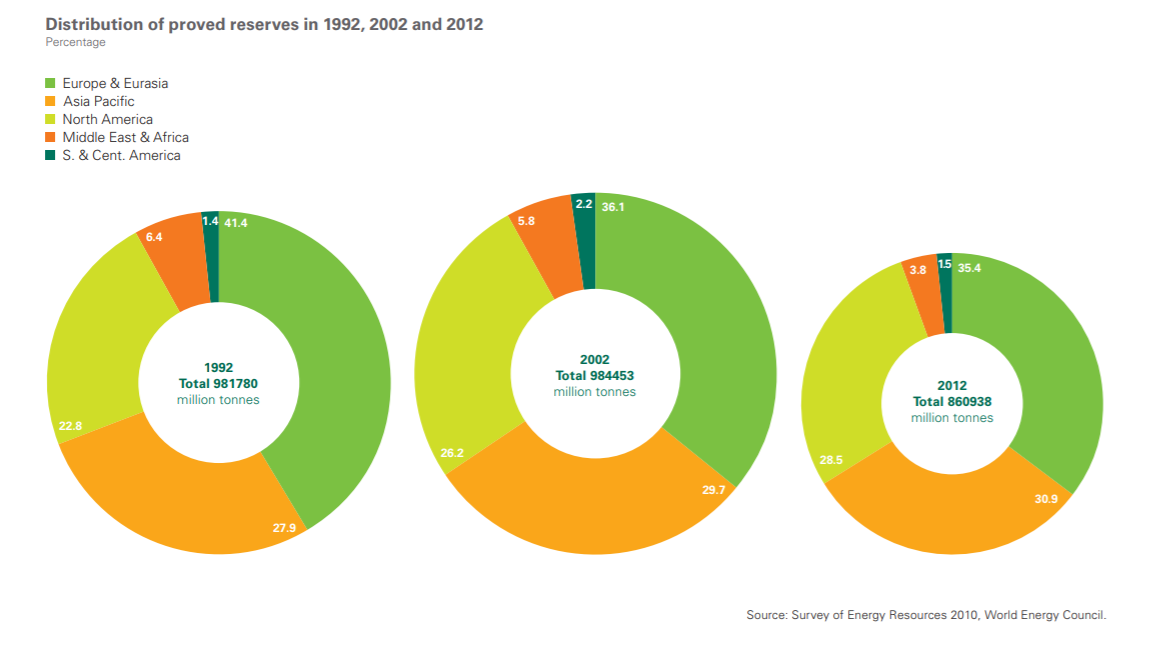 Figure 1.1: Distribution of Proved Reserve for Coal in 1992, 2002 and 2012
Calculating how much of a given region's demonstrated coal resources should actually be considered "reserves" depends on a complex interaction between technology, economics, and environmental regulations.
Analysis of Demand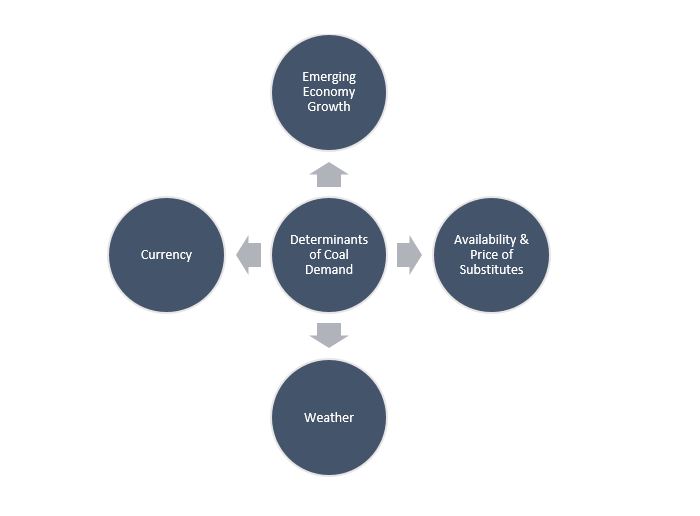 Figure 1.2 Factors affecting Demand of Coal
Determinants of Demand for Coal can be listed as
Demand for Energy in Emerging Economies
In case of Emerging Economies especially China and India, demand for energy has shown a rising trend.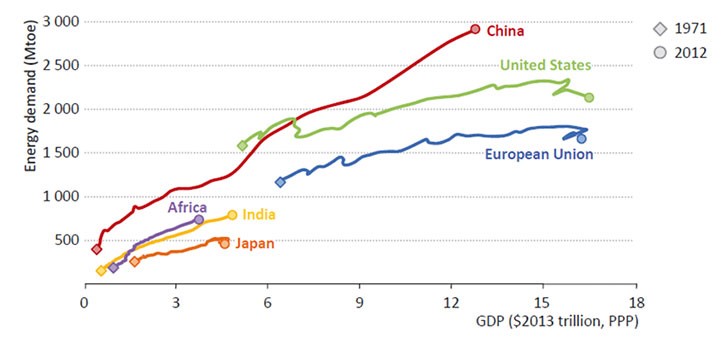 Figure 1.3 Total primary energy demand and GDP in selected countries, 1971-2012
Source: IEA World Energy Outlook 2014
Increasing global demand due to expansion in emerging economies has led to an increase in price of Coal in the energy market. Further the emerging economies are poised to continue the growth of demand for energy commodities in coming years.
Accessibility and Economic Viability of Substitute Fuels
The mix of fuels used to generate electricity has varied over time. Several factors, especially changes in relative fossil fuel prices, have influenced the mix of energy sources used.
The 'elasticity of substitution' concept measures how the use of these fuels varies as their relative prices change. As fuel costs and technology change over time, some energy sources become more economical to use than others. Although coal has been the predominant fuel used in power generation in the U.S. over the last 60 years, its share of the fossil fuel mix has varied in response to changes in the cost and availability of competing fuels.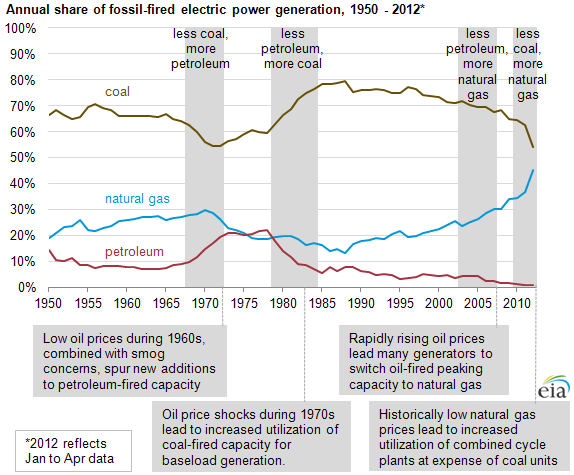 Figure 1.4 Share of Fossil Fuels in Electricity Generation for USA over time
Source: U.S. Energy Information Administration, Annual Energy Review and Electric Power Monthly
As an example we have taken the case of Power Generation in USA and analysed the share of Coal, Natural Gas and Petroleum in the process. Interesting point to observe is that post 2005 historically low natural gas prices has led to its increased utilisation at expense of coal units. This clearly means there has been a decrease in demand of coal in the period 2005 – 2012 with the requirement of fuel being compensated by Natural Gas as a reliable substitute.
Weather is another factor that is capable of affecting the price of coal. In this aspect, an increase in the volatility of the temperature often leads to a change in the demand coal. This effect is especially apparent during the winters. For instance, with the extremely cold winter that was witnessed around 2010-2015, the demand for heat went up along with the demand for electricity. And as long as coal remains the world's number one source of power and heat, such weather condition is bound to move the price of coal.
Another demand side factor is the commodity currency factor. A commodity currency is the currency of a country whose economy depends on the export of certain commodities.
The Australian dollar, or the AUD, is a good example in case of Coal. If, for instance, the value of the AUD rises, price of coal exported from Australia will rise this will in turn lead to decrease in demand for coal.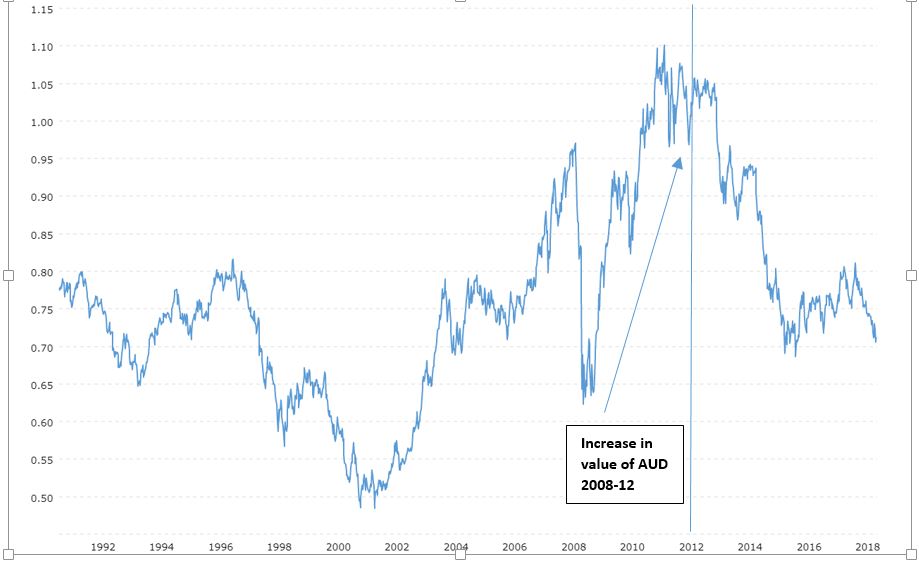 Figure 1.5 Australian Dollar – USD Exchange rate trend. Source: www.macrotrends.net
As it can be observed from the above figure, increase in value of Australian Dollar in the period of 2008-2012 could have made the coal exported from Australia more expensive impacting demand for coal and making it slightly lower.
Analysis of Supply
Despite coal being a non-renewable resource, supply is not a problem for the now since global reserves are still very large. However, if, in future, more investment is made toward coal production, the industry might experience congestion – too much supply in simple terms. Too much supply, in the end, is bound to overweigh the demand for coal, which in turn brings down the price of the commodity.
Other supply side factors involve the production process such as the supply of equipment, transportation, replacement parts, fuel, and so on. If the supply of any of these is not up to the required quantity/standard, the production process might be slowed, which might also slow down supply – a prerequisite for a price increase.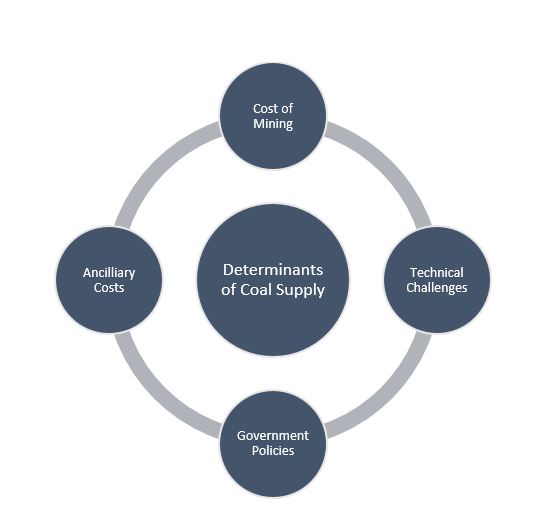 Figure 1.6 Factors affecting Supply of Coal
Factors affecting supply of Coal can be listed as
Cost of mining is dependent on various complex factors such as geology, extraction methodology, and percentage of deposit remaining. Depending on these factors production could be expensive or cheap.
In general it is being observed that Coal is getting more and more expensive to produce. Below figure depicts rise in average cost of production of coal for 2004 – 2011 period.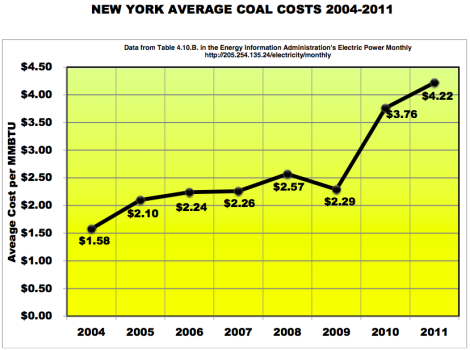 Figure 1.7 New York Average Coal Cost. Source EIA
Reason for rise in price is that due to the continuous production, the easiest-to-reach coal has been mined, which means coal companies have to dig deeper and go after thinner seams and smaller deposits. That costs more, in both energy and money. Higher cost of production would mean decrease in supply of coal, in turn leading to increase in price.
Ancillary Costs include production process such as the supply of equipment, transportation, replacement parts, fuel etc. Due to increase in price of diesel transportation costs have increased leading to increase in overall cost of supply for coal.
Technical challenges includes complexities in extraction of coal which requires more skilled labour, better equipment and higher level of safety standards leading to higher cost of extraction of coal
Government policies and regulations especially with respect to environment can also impact supply of coal. With increasing focus on climate change and call for closure of coal fired plants and carbon taxation – supply challenges have been growing which can increase cost of supply and lower general demand
Understanding Market Equilibrium and Reason for Change in Reserve Estimate for Coal
Decrease in proved reserve estimate suggests that a fraction of reserve which was considered to be economically and technologically viable for extraction, given the market condition is no longer viable.
Shift in market equilibrium could be because of the following factors
Decrease in Demand due to viability of Alternative Fuels – As pointed out in Analysis of Demand Section, due to historically low natural gas prices. It is being considered a viable substitute for coal in power plants which could have led to decrease in demand of coal and ultimately decrease in its price.
Increase in Cost of Production – Increase in cost of production of coal could have had a direct impact on decrease in total proved reserve estimate over time. As due to increase in production cost, economic viability of reserves would have decreased.
Following could be the reason for Increase in Production Costs for Coal
Technical Viability – As more and more reserves get exploited, the geological factors make it quite difficult to extract the remaining reserves. This could lead to increase in cost of extraction making production more economically competitive. A good practical example of this situation could be the Mines in Central Appalachian Region[1]
Increase in Ancillary Costs – Other factors which increase cost of production relate to increasing labour costs, increasing costs of transportation etc. As discussed in section Analysis of Supply, due to increase in price of Diesel there has been a general rise in transportation cost. Moreover, with rapid depletion of existing deposits, new mines have tended to move farther away from export infrastructure and thus incur higher inland transport costs.
Increase in Production Cost due to Environmental Regulations – Restrictive environmental regulation has led to a substantial decline in economic prospects of the coal industry. Due to taxations and regulation, ease of extraction and production has suffered.
Short Term Forecast for Coal Market
From the coal industry's perspective the three important areas to look into for understanding the future trend
(1) Energy access in the developing world, Energy security and affordability in the developed world
(2) Technological Advancement and efficiency improvement, and
(3) Environmental protection globally as being the main challenges
The largest growing economies today are powered by coal and have significant coal reserves. The increase in coal consumption across the globe has predominantly been due to demand for greater electricity generation in China, India and other non-OECD countries which have seen total power generation double since 2000.
World Bank estimates show that during the period 1980-2008 Chinese annual coal consumption increased by more than 400% from 626 million tonnes to 2.7 billion tonnes. Similarly, the Indian Government anticipates an additional 60GW of coal-fired power generation to be built in the country by 2017 which would increase total coal-fired capacity to approximately 175GW[2].
Clearly Increase in Demand for Energy in the developing countries will keep the demand for coal on rising in the coming years. This could lead to a subsequent price rise in the coming years for coal.
Efficiency in coal-fired power generation will play an important role in the future production of electricity. This is particularly the case with the potential of higher efficiency power generation to reduce CO2 emissions. Improving the efficiency of the oldest and most inefficient coal-fired plants would reduce CO2 emissions from coal use by almost 25% representing a 6% reduction in global CO2 emissions[3].
This means an improvement in technology will make coal-based power plants more efficient and environment-friendly leading to lower cost of production and cheaper coal prices in future.
Historically, coal markets have tended to be international in nature and prices are determined by the cost of supplying the marginal unit of coal. Given the possibility of increasing demand from emerging economies and improvement in technology making supply of cost cheaper, it can be expected that overall there will be rise in price of coal for the coming 5-10 year time horizon. As demand is set to rise at a faster pace due to emerging economy needs whereas technological improvements that can lead to cheaper coal production will take time to show its impact.
[1] https://www.washingtonpost.com/business/economy/cost-of-mining-coal-continues-to-climb/2012/10/24/d15666ca-1931-11e2-bd10-5ff056538b7c_story.html?noredirect=on
[2] World Energy Resources: Coal; Report by World Energy Council 2013
[3] Ibid.
Contributed by Utkarsh Akhouri
About Author: